In WFM environments, it pays to take heed of the lessons about how to eat the elephant: One bite at a time, hunker down for the ride, and grab the small but consistent wins.
They are the types of projects that can make almost anyone whistle in wonder: The big, hairy, and audacious projects that seem indomitable. We tend to liken them to Eating the Elephant: You can only do it one bite at a time.
Several years back, Quay was engaged to re-plan and then deliver a failing Workforce Management project in an environment that was steeped in history, bureaucratic, heavily unionised with many 'lifers', and a bundle of deep-seated systematic behaviours and practices going back more than 150 years. It was an environment that was the polar opposite of an enterprise environment in which to deliver an effective WFM solution.
In addition to an environment that wasn't conducive to change, the time capture and recording processes for this organisation were completely manual. As leaders in this space, Quay took the challenge head-on with vim and vigour however the reality check was that to be successful in such an entrenched setting, this wouldn't be a sprint; instead it would be a war of attrition.
Small Wins to Create Momentum
Demonstrating small but frequent successes was key. Carefully planned (and regular re-planning), strong stakeholder engagement and proving the solution in targeted parts of the organisation allowed the project team to create much needed momentum and visible benefits. This in turn allowed them to get up a head of steam and drive hard at the enterprise roll-out.
While it would be untrue to say that the result was a resounding success (thanks to parking some scope due to conflicting priorities), the benefits delivered via this approach – which continue to be delivered – made the toil worthwhile.
If It's Not Measured, It's Not Managed
The hypothesis we worked to was that the workforce was not working their rostered hours and as such, the client had a potentially excessive and/or under-utilised workforce. The compliance graph below depicts – by business units – the compliance shifts to taping on and off (Read: Work Hours):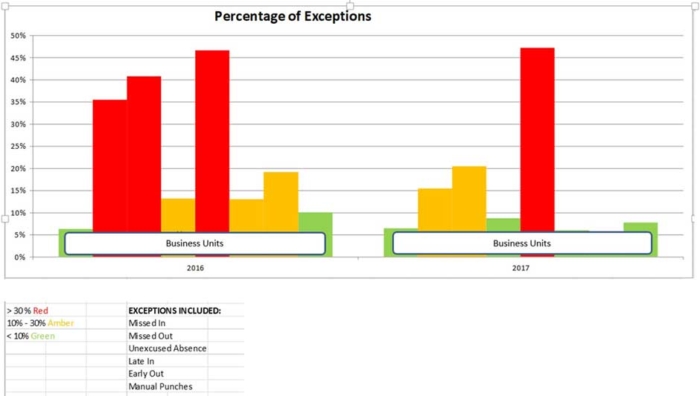 With a manual time recording process, the client had no means of validating this hypothesis. As it now stands, the client can judge which of these two hypotheses were correct as the utilisation has significantly improved (assuming tag on and off equates to working a full roster).
In fact, the insights gained have been so successful that overtime practices, poor rostering practices, and deliberate manipulation of roster-related work benefits was identified and addressed. The benefits of delivering WFM transformation became well and truly clear.
We are not finished eating this elephant yet however but what we can say is through tenacity, perseverance, focus and taking small wins along the way we have been able to unwind more than 150 years of sub-optimal practices and drive out significant benefits for our client.
Gradual Improvement in Compliance Delivers Major Benefits
Employees are responsible for recording their actual hours of attendance, while managers are accountable for verifying that their employees are working the hours they are scheduled for.
The WFM solution has had a profound material impact on organisational behaviour. The swift adoption of mobile technology has enabled attendance recording for those employees who are required to work in remote locations from their depots. The gradual improvement in attendance compliance across the organisation has been a major benefit for both employees and contractors.
Insights and Analysis: The Keys to WFM Optimisation
The ability to access Time Recording data has enabled the organisation to improve its reporting capability to senior stakeholders, including information such as:
Summarised data for analysis on individuals' actual attendance vs roster schedules
The types of allowances being claimed
The overtime that has been worked; and
What absences are being taken.
ADO, planned overtime (but not worked), and the punch on/off locations data has enabled the organisation to identify and address systemic malpractices.
The upshot of the story? If your organisation has similar challenges and planning to transition to automated time-recording and other WFM functions, it pays to take heed of the lessons about how to eat the elephant: One bite at a time, hunker down for the ride, and grab the small but consistent wins. It won't happen overnight, but it will happen.
Want to talk to us about Workforce Management transformations? Contact us here or call 02 9098 6300.
We believe that quality thought leadership is worth investing in. Please share our content with your colleagues via any of the links below.