Imagine a unified workforce management solution that connects, enables, and engages your frontline staff.
Sydney 8th November 2023: We are excited to announce our partnership with WorkJam, the leading digital frontline workplace, as we collaborate to deliver enhanced value to organisations across Australia and the APAC region.  
"With more than 17 years of project delivery, change management, and workforce management transformation under our belt and the journey we've been on so far with the WorkJam team, we can't wait to showcase how much this platform benefits frontline engagement," said Jon Pascoe, Principal Consultant at Quay.  
WorkJam in Action
At the recent WorkJam Day in Melbourne, the Quay team joined the WorkJam team to hear from customers about how digital task management, more effective engagement across their organisations, and the shift to digital has transformed the way teams can optimise their day.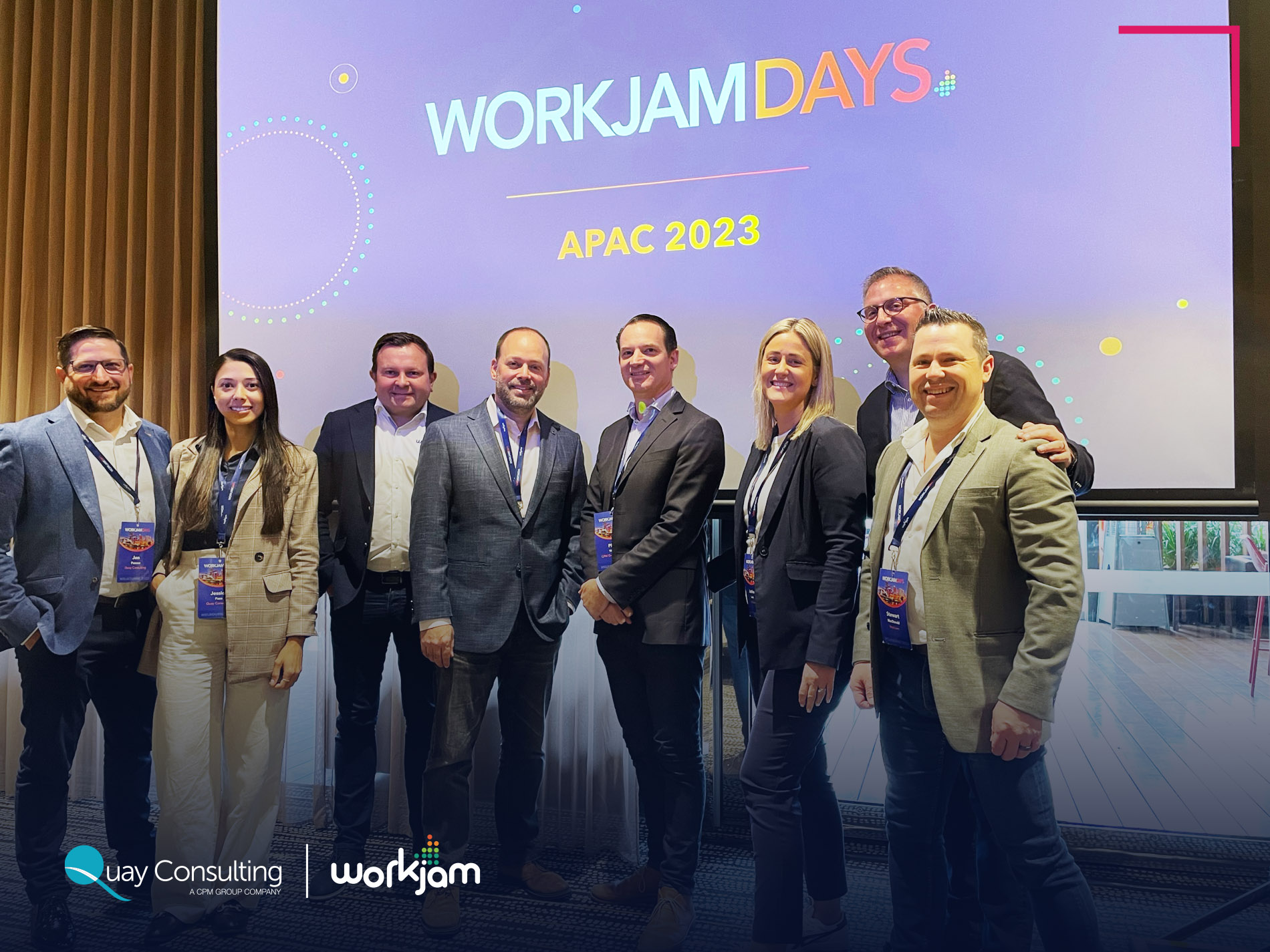 The Quay and WorkJam teams at WorkJam Day Melbourne: Jon Pascoe, Jessica Paes, Andrew Meyers, Joshua Ostrega, Piers Wilson, Justine Lamb, Steve Kramer, Stewart McDonald
Quay Consulting will help customers streamline the implementation of WorkJam's digital frontline workplace platform, ultimately improving organisational performance and productivity.  This strategic alliance will enable senior operations and project leaders to maximise the benefits of WorkJam's digital tools, providing their frontline employees with flexibility, recognition, and clear advancement pathways. 
"We are excited to join forces with WorkJam and leverage our collective knowledge and expertise to deliver successful projects to our APAC customers," said Andrew Myers, Managing Director at WorkJam APAC. "This partnership ensures that our clients receive the highest level of service, in line with our shared commitment to value-driven standards." 
Piers Wilson, Managing Director of Quay Consulting and the CPM Group, also expressed enthusiasm for the partnership by stating, "Partnering with WorkJam, whose goals align with ours, reinforces our dedication to providing exceptional service and engagement to our clients." 
The collaboration between Quay Consulting and WorkJam will have a significant impact on various industries, including retail and hospitality, manufacturing, healthcare, services and distribution, and banking and financial services. Together, they will revolutionise how organisations manage their frontline teams, delivering improved efficiencies, employee engagement, and business outcomes. 
Want to Know More?
Learn more about Quay and WorkJam's partnership here or if you'd like to chat about how WorkJam can work for you, send us a message or call us on 1300 841 048. 
About WorkJam
WorkJam is the global leader in digital workplace platforms, providing organisations with solutions to empower their frontline employees. WorkJam's innovative technology enables businesses to improve employee engagement, communication, and productivity. With a focus on the frontline workforce, WorkJam helps organizations deliver exceptional customer experiences. 
For more information about WorkJam, please visit: www.workjam.com